Who Knew is the foundation band of Who Knew Entertainment. Featuring multiple singers, both female and male, and plenty of superior harmonies!  Who Knew is a rock/party/dance band playing live (never tracked or sequenced) music from the EVERY genre and era!  Nothing is left out!  A typical night may range from Etta James…to Ozzy Osbourne….Lady GaGa to Guns and Roses….Ben E. King to AC/DC. You get the idea. We LOVE what we do. Who Knew has played for a multitude of weddings, corporate events, private parties, fests, and clubs. 

Who Knew Entertainment also features soloists, such a violin, guitar, piano, etc…for events, ceremonies, cocktails, and more.  We have an all female TRIO – featuring 2 female vocalists, and female pianist.  In addition, our lineup includes an ORIGINAL group that is SIGNED to a CD deal with a subsidiary of SONY – called Lillian Rain.  The CD project features acoustic guitar and female lead vocals, and male harmonies. For live events, Lillian rain additionally features 2 female backup singers, and can play as a full band or acoustic.  Who Knew often plays shows acoustic, with the same awesome music – nothing is ever left out.  Rumors, a Fleetwood Mac Tribute band, is a fantastic part of our lineup.  We are always excited to create and tailor musicians and music to each event – it is our specialty - often resulting in fun sing alongs and kumbaya moments.  

MEMBERS OF WHO KNEW ENTERTAINMENT: 
Kelli Ann – Vocals, Keys, Guitar, Violin, etc.. 
Who Knew is the HEART project of Kelli Ann. She comes from a musical family, with many accomplished and famed musicians, stars and vocalists, and has been singing since childhood on the corner of her grandmother's baby grand piano.  As a classically trained violinist and singer, as well as performing on over 13 instruments and dancing, she has won countless awards, and was named the Young Performers Award Winner at Carnegie Hall.  She studied voice and violin on scholarship at the Conservatory for the Arts at Wittenberg, Northwestern University and DePaul University, and has studied with countless masters in the field of voice and violin across the world, including Kathleen Battle and Itzhak Perlman.  From stages like Carnegie Hall in New York, to the Metro in Chicago, to the Wild Horse Saloon in Nashville – she has never met a stage she does not like. She is also a former Miss America contestant and was the youngest Executive Director in Miss America Scholarship Organization history to coach a contestant to winning the Miss America title. In addition to singing and musicianship, her unique experiences have allowed her the opportunity to judge some of the most prestigious vocal and talent competitions in the world.  She is also a famed international vocal coach, founder of the renowned Four Winds Vocal Artistry Studio and international talent reviewer with world-wide readership.  In her spare time, she is the president of a rescue organization she founded in Illinois and serves on the Board of Directors of the RRVASC.  She is also active in pet/ animal Intervention and therapy work, and involved in music therapy. Her love of singing and almost losing that opportunity are what brought her to form this unique group – and to be able to bring this talented group of artists to a stage together to perform – she feels it is an honor to be part of something this special.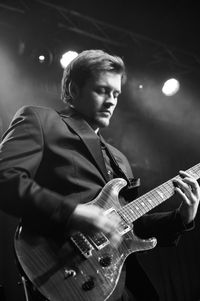 Ken Becker – Guitar, Vocals
Ken is always broadening his knowledge and abilities on the guitar, and as an overall musician.   He has performed at many of the top Chicagoland venues and event spaces including The Conrad Suite; Chicago Hilton, The East Bank Club, Aboyer in Winnetka, Milwaukee Shores Country Club, Ravinia Country Club, Martyr's, Subterranean, Bottom Lounge, Cubby Bear, The Elbo Room, and The Odyssey Cruise Ship. Ken attended Columbia College in Chicago as a music composition major.  He also toured the country at the lead singer of "Battery", and has toured nationally with "Deepfield". In addition, he teaches guitar through his own traveling guitar business.  He is influenced by and actively studies many realms of music, including: classical guitar, jazz, blues, funk, country/bluegrass, rock, metal etc. In his own practice, composing, and performing, he incorporates elements of all of these styles. He studied with the incredible and multi-instrumentalist Jazz Guitarist, John Zelisko for several years, and currently studies classical guitar with the infamous Classical Guitarist, Norman Ruiz, who has performed on some of the world's finest stages, including soloing with the Chicago Symphony Orchestra and at London's famed Wigmore Hall. Some of his most influential guitarist "heroes" include: John Petrucci, Steve Howe, Paul Gilbert, Danny Gatton, John Scofield, Robben Ford, Guthrie Govan, Al DiMeola, Pat Metheny, George Benson, Django Reinhardt, Steve Vai, Frank Gambale, among countless others.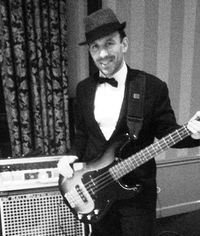 Brian Garibaldi-  Bass, Vocals, etc… 
Brian can play - he can sing - he can harmonize - he can. The development of Brian's unique style is the result of a lifetime of musical influence. With creative melodies and riffs, a progressive edge, and a voracious appetite for making the bass guitar a viable, prominent instrument across divergent genres, Bass B is a great fit with Who Knew's wide ranged repertoire. From bands like Crazy Heart, Out of Control, and Alter Image, Brian brings his years of experience into the WK family and into your soul.